Training School Introduction to Species Distribution Modelling
print
Date: 8-10 September 2021
Place: on-line
Training School leaders: Koenraad Van Meerbeek, Stef Haesen, Peter Glasnovic, Tobias Fremout and Olav Skarpaas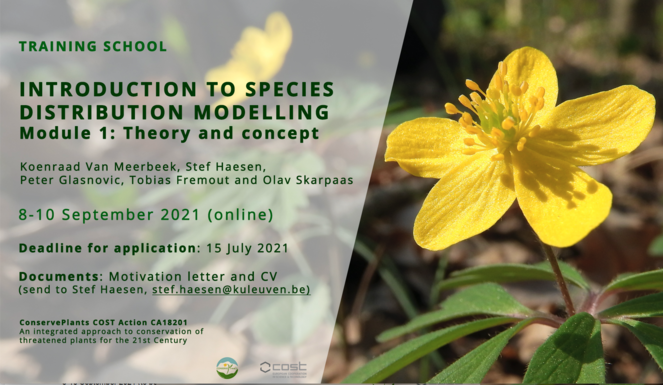 This online training school is prepared within the framework of ConservePlants COST Action (CA18201) and aims at training Early Career Researchers in the fundamental concepts underpinning species distribution models. The aim of online course is to work towards a thorough understanding of SDMs. We will focus on statistical models of species distributions – those that combine observed species records with environmental data. Using a mixture of online lectures, Q&A sessions and case studies, participants will:
understand the theoretical underpinnings of SDMs, including strengths and limitations;
get insight in the different steps that are necessary to perform SDM;
know which data are necessary to perform SDM and where to get it;
understand the differences between different modelling types;
learn to evaluate models and interpret them;
and apply the theory in simple case studies in R.
The applications will use the free statistical software R – basic experience is mandatory. Example data will be provided.
This course is the first of two modules and will focus on theory and concepts. This first module will be held online and is designed for PhD students and Early Career Researchers, interested in using SDMs to model species ranges and predict the impact of climate change. Applicants should send a motivation letter (1p) and Curriculum Vitae to Stef Haesen (stef.haesen@kuleuven.be) before the 15th of July 2021. In the second module (which will be organized later), we will deal with more advanced topics of SDM and we will focus on the practical implementation in R.
Deadline for application (Module I): 15 July 2021
Documents: Motivation letter and CV - send to stef.haesen@kuleuven.be